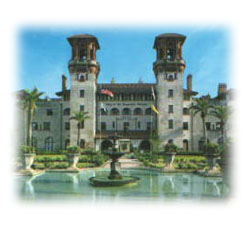 St. Augustine and St. Augustine Beach Tourism
Come travel in St. Augustine: touring St. Augustine is a unique experience
St. Augustine tourism on the historic mainland or Anastasia Island can be summed up in four phrases: Quaint bed and breakfast establishments or accommodations, Beautiful Beaches, Wonderful Historic District, and a Sports paradise.
St. Augustine tourism is a very big part of the city. There are many bed and breakfast establishments, hotels, motels, private rental properties and campgrounds to provide comfortable and unique accommodations for all the many people that are linked with St. Augustine tourisim.
St. Augustine Tourism is abundant in the St. Augustine Florida Beach community. St. Augustine FL's tourists discover that the beaches on Anastasia Island are very beautiful. All of the qualities of any great beach are present. You can surf, fish, swim play volleyball, or just lay out. After the day of fun in the sun you can choose among the finest restaurants in the northeast Florida area. Many restaurants and lounges in St. Augustine also provide live musical entertainment for the St. Augustine tourist that ranges from a single soft finger guitarist to a rock and roll band called Mantanzas.
From the great beaches and restaurants the St. Augustine tourist can jump to another part of St. Augustine, the Historic St. Augustine. You can stroll down St. George Street (no cars alowed) or take a horse and buggy carriage ride around the historical city. Whatever you do, you should have fun as a St. Augustine tourist.
For the sports minded St. Augustine tourist this area probably has more golf courses per capita than most popular golf resort areas. World Golf Village is a short 10 to 15 minute drive away. The Players Championship is just 25 minutes away in Ponte Vedra. Evidence of water sports is everywhere you look around St. Augustine FL. Sailing charters, fishing charters, jet ski rentals, and all kinds of beach activity are abundant.
There's so much to do in St. Augustine and and Anastasia Island and the Beach and so many places to visit, that a day just won't do it. Plan to spend at least three days here to get the full flavor of our beautiful, historic corner of Florida. If you need a place to stay, how about the wonderful rooms at the Anastasia Condominiums or the lovely Kenwood Bed and Breakfast Inn.
If you should need health care while in St. Augustine, FL. We have a complete directory of the health and medical services in St. Augustine and St. Johns County. Click here to look up a dentist, chiropractor, or doctor.